Wedding Ensemble
A wedding ensemble may include a number of components. Following are brief descriptions of the various items that are commonly incorporated to create a complete wedding ensemble.
A wedding invitation serves to inform invited guests of the date, time, place, and hosts of the wedding ceremony. It may also provide additional information such as the location and time of the reception, dress code, etc. The wording, lettering style, and ink color chosen to create a wedding invitation are essential in establishing and supporting a wedding theme.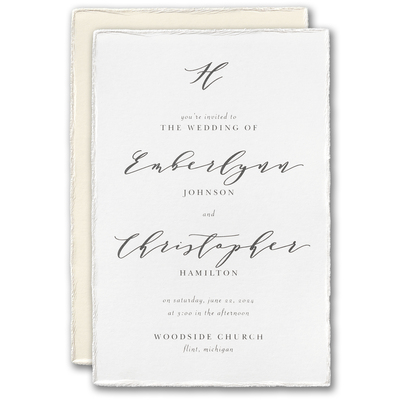 A wedding announcement serves to inform family and friends who weren't at the wedding that the couple has been married. Wedding announcements are often used when a couple has a small wedding or has eloped. They are also commonly used in the case of second weddings. Any invitation can easily be converted to an announcement with a simple change in wording.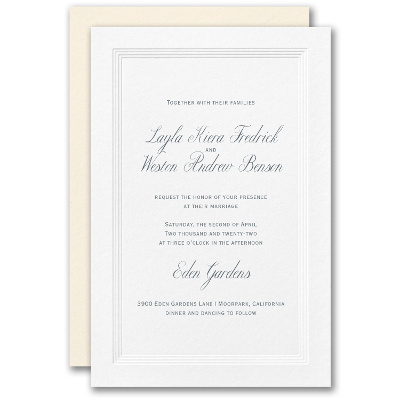 Unlined Inner Envelopes and Blank Outer Envelopes - Included FREE with all wedding invitations, unless noted otherwise in the item description.
Lined Inner Envelopes - Enhance the colors of your wedding invitation or ink selection by ordering inner envelopes lined with a beautiful color for a small additional charge.
Printed Outer Envelopes - To save addressing time and ensure the return of undeliverable invitations, it is recommended that you have your return address printed on the outer envelope flaps. The lettering style will match your invitations.
Envelope Extras - Add a finishing touch to your outer envelopes with extras such as elegant seals available in a variety of designs to match your theme, envelope icing, personalized address labels, or customized postage stamps.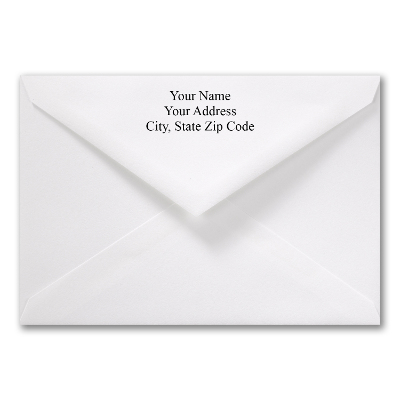 Map/Direction Cards are a fantastic way to let guests know about the area where the wedding ceremony and reception are being held. You may include a favorite restaurant or two, shopping centers, ideal parking locations, etc. A map pinpointing these places, including the ceremony and reception sites, makes it easy for guests to navigate the neighborhood. For best results, draw your map on unlined white paper with a black, fine-line marker.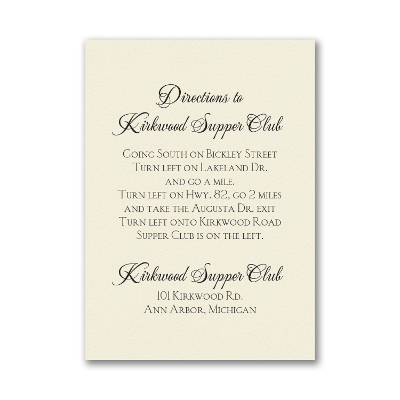 Thank-you cards are basically a variation of a note card. The main difference is that thank-you notes are printed with the words "Thank You" on the front rather than names or a monogram. They are most often used to express thanks and appreciation for shower and wedding gifts, but they can also be used in conjunction with handing out gifts to the wedding party. Thank-you cards may be ordered blank on the inside to allow for writing a personal note or printed with an appreciation verse and your names, if you prefer.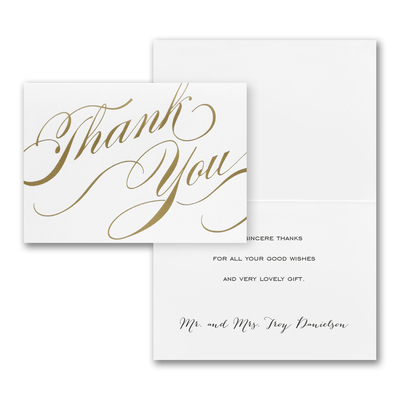 Note cards are versatile and can be used for pre- and post-wedding communications. Many brides order note cards with their maiden name or personal monogram to use as shower thank-you notes. When printed with a couple's names or monogram, note cards are often used as thank-you notes for wedding gifts. Coordinating envelopes are included with the note cards. Note cards can be used for writing personal notes, as well, so don't hesitate to order extras! Note cards differ from thank-you notes in the respect that they are personalized with names or a monogram rather than the words "Thank You."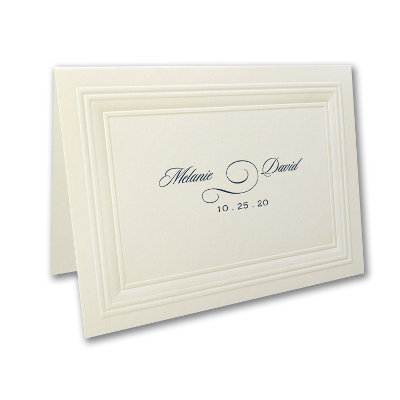 Reception cards, tucked in with your wedding invitations, ask your guests to participate in the celebration following your wedding ceremony. Reception cards are also perfect as invitations to such other wedding-related events as a brunch on the morning of the wedding, a gift-opening party, a family photo session, etc. Envelopes are not necessary.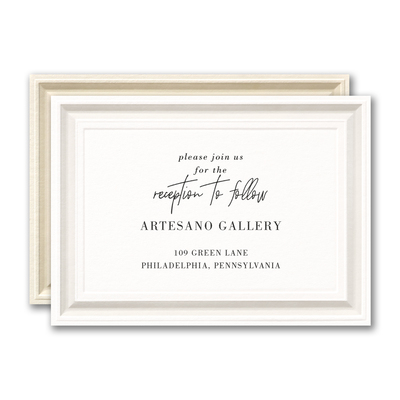 For accurate reception planning, response cards are essential. The cards are printed with the date to respond by, a line for guests to fill in their names and a line for guests to indicate how many of those invited will be attending the wedding reception. Response cards include envelopes printed with your return address FREE. Both are enclosed in your invitations. Guests return cards in the envelopes, letting you know whether or not they will attend.